All across the United States, people celebrate our country's independence on the fourth of July. Yet, signing the Declaration of Independence in 1776 did not make everyone free and independent. In fact, it was legal to enslave people for another 86 years until President Lincoln signed the Emancipation Proclamation in 1862. Even then slavery did not end in the U.S. until June 19, 1865 when slaves in Texas were finally freed, almost 100 years after the signing of the Declaration of Independence. 
Juneteenth, just like July 4th, should be celebrated by all. Recently, congress passed a bill making Juneteenth a federal holiday. This day commemorates the end of slavery and freedom for African Americans in the United States. 
Although slavery was abolished on June 19, 1865, racism did not end. We do not live in a post-racist society as is evident by the ongoing oppression and systemic racism against African Americans in this country. With the killings of George Floyd in Minnesota, Breonna Taylor in Kentucky, and Amaud Arbery in Georgia our country has seen increased awareness and tensions. While marching in protests and posting on social media is a good start, it is not enough. There is much more work to be done. We must understand the long history of oppression and the rich contributions of African Americans to our country. 
To get started, we recommend these children's books and further reading about Juneteenth and African American history and heritage:
Juneteenth for Mazie by Floyd Cooper
Mazie learns about Juneteenth from her father who encourages her to remember and celebrate. 
All is Different Now: Juneteenth, The First Day of Freedom by Angela Johnson 
Written in free verse poetry, this book tells the story of a family in Texas who upon learning about their freedom go and celebrate with the community. 
 Days of Jubilee: The End of Slavery in the U.S. by Patricia & Fredrick McKissack
DAYS OF JUBILEE chronicles emancipation beginning with slaves who were freed for their service during the Revolutionary War, to those who were freed by the 13th Amendment to the Constitution. 
Free at Last!: Stories and Songs of Emancipation by Doreen Rappaport
True stories and traditional songs shed light on a lesser known era in African-American history — the crucial decades between Emancipation and the start of the Civil Rights movement.
Dave the Potter by Laban Carrick Hill
Set in South Carolina in the 1800s, this book tells the story of a slave who was an artist, poet, and potter who conveyed messages of peace and hope in his work.
Henry's Freedom Box: A True Story From the Underground Railroad by Ellen Levine
This book tells the story of Henry Brown, who literally mails himself in a box to escape slavery and obtain freedom in Philadelphia. 
Note: Upon closer examination of the book Henry's Freedom Box, we wish to point out some problematic language suggesting Henry's master was good to him and his family. And thus recommend the book, Box: Henry Brown Mails Himself to Freedom by Carole Boston Weatherford as an alternate text.
Henry Brown's story of how he sent himself in a box from slavery to freedom is told through stanzas of six lines (to represent the box). Historical records and an introductory excerpt from Henry's own writing as well as a time line, notes from the author and illustrator, and a bibliography are included.
The Undefeated by Kwame Alexander
This beautiful poem is a tribute to the resilience of black life and history in the U.S. The back matter provides powerful historical context and information about many inspiring African Americans.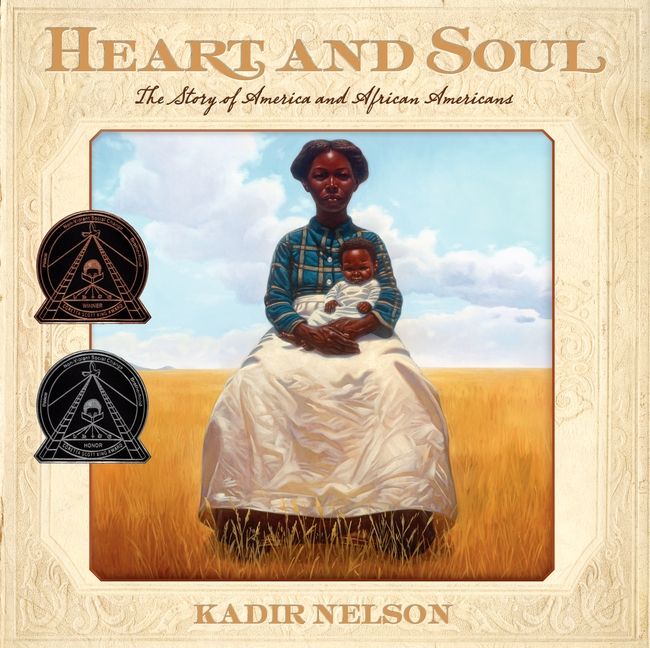 Heart and Soul: The Story of America and African Americans by Kadir Nelson 
Told through the perspective of a 100 year old African American woman, this book tells the rich history and contributions of African Americans through the dark history in the U.S. Beginning with the birth of the nation, the story of African Americans is told chronologically through the Civil Rights Movement. 
This Book is Anti-Racist by Tiffany Jewell 
This book helps the reader explore issues around race including the history behind it and ways to be an anti-racist through the exploration of social identities, privilege and the power to speak up and take action for social justice.

Stamped: Racism, Antiracism, and You by Jason Reynolds & Ibram X Kendi
This powerful middle grades and young adult book explores the history of racism in the United States. 
Stamped (For Kids): Racism, Antiracism, and You
This chapter book version of Ibram X. Kendi's and Jason Reynolds's book offers an essential introduction to the history of racism and antiracism in America. 
Further reading: 
An Educator's Guide to "Stamped: Racism, Antiracism, and You"
How to Talk to Kids About Race: Books and Resources That Can Help 
Why All Americans Should Celebrate Juneteenth 
7 Black LGBTQ leaders in honor of Juneteenth and Pride month 
Juneteenth: Our Other Independence Day (Smithsonian) 
So You Want to Learn about Juneteenth?
*updated: June 17, 2021